Click Here for More  Information
45th Annual

Saturday, May 1 & Sunday, May 2, 2021
Blair Park & Oak Hollow Golf Courses

Click Here for More Information
Covid 19 Update
The continued spread of COVID-19 is causing many changes in all aspects of our lives and businesses. Here at Blair Park Golf Course we are committed to the health and well-being of our employees and patrons.
With that we have Temporary Changed our Hours of Operation and made some additional modifications:
The Golf Course and Grill will be open at 10:00 am on Monday's and willoperate 8:00 am to Sunset the other days
We will continue enforcing Social Distancing and face coverings are required inside the facility
We have installed golf cart professional dividers that will allow two persons per cart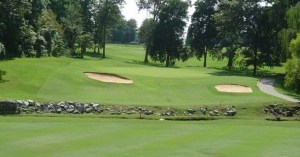 The oldest of High Point's two municipally owned courses (Oak Hollow) Blair Park was a gift to the city from descendants of Solomon Blair. Today's modern 18 hole facility was originally constructed as a nine hole course in 1931, with a second nine added in the mid-1940s. A favorite course with area golfers, our High Point golf course has been the host to many local and High Point Golf Championships. The course is traversed by numerous creeks that come into play on more than half the 18 holes. Bunkering is modest but strategic. The course offers numerous opportunities to go-for-broke, but will punish the errant gamble. Blair Park is an affordable and well maintained public course that provides something for every player no matter their skill level.
High Point Golf Memories

Many notable golfers have visited this High Point golf course, including golf legend Sam Snead who played an exhibition round in 1948. Blair Park is a challenging but fair layout, rich in tradition and will test all of your golfing skills. We hope it's beauty and superb conditions will make your experience here a memorable one.
HPGA Shootout
June 26th-27th
Sunday Scores

 
Championship Flight 
Saturday Scores 
SUN  Score
TOTAL 
1st
Andrew Mespelt – Tom Wright
56
58
114
2nd
Wesley Perry – Adam Hamlett
61
59
120
3rd
Stephen Mabry – Jay Baity
58
63
121
4th
Paxton Davis – Josh McKinnon
61
61
122
5th
Justin Franklin – Ryan Lantz
62
61
123
 
Scotty Odell – Floyd Evans
58
65
123
 
Eddie Shipman – Scott Hutcherson
61
62
123
 
Garett Rains – Austin Hinshaw
58
66
124
 
Jim Shaw – Bill Cook
61
63
124
 
Brian Skeen, John McKinnon
61
69
130
 
 
 
 
 
 
First Flight
Day 1                    Day 2 
TOTAL 
1st
Shane Hamlett – Derek Cobb
64
65
129
2nd
Jerry Odell – David Reagan
66
65
131
3rd
Mike Vanleuvan – Robbie Pate
65
66
131
4th
Faron Skeen – Star Gilley
64
67
131
5th
Zach Springer – Mark Riley
64
68
132
 
Everett Dehart – Bruce Dehart
65
68
133
 
Mike Sullivan – David Simpson
66
67
133
 
Collin Miller – Greg Mauldin
66
67
133
 
Darin Bell – Johnny Vanleuvan
66
68
134
 
David Andrews – Tyler Carrick
65
74
139
 
 
 
 
 
 
Second Flight 
Day 1                    Day 2
TOTAL 
1st
Robin Rice – Doug Meurs
67
62
129
2nd
Rodney Hill – Cody Hill
68
63
131
3rd
Nick Burge – Mike Turner
67
66
133
4th
Ren Hean – Chris Boutsady 
67
67
134
5th
Hugh Mespelt – Don Mills
68
66
134
 
 John Carroll – Zack Weant
68
67
135
 
Byron Forrest – Danny Jones
69
66
135
 
Ashley Scarlette – Ryan King
68
68
136
 
Rick Eller – Pres Spivey
69
67
136
 
Phillip Gibson – Carlton Branson
69
68
137
 
Edward Owenby – Gene Clark
69
68
137
 
Buck Yokley – Duffy
68
70
138
 
Austin Mills – Mark McNeill
69
69
138
 
Josh Williams – Tyler Williams 
68
73
141
 
 
 
 
 
 
Third Flight 
Day 1                    Day 2
TOTAL 
1st
Rusty King – Chris Ingram
71
65
136
2nd
Johnny Hopkins – Sam Patterson
72
66
138
3rd
Mike Brown – Bill Clough 
70
68
138
4th
Dan Mureness – Brenda Mureness 
70
69
139
5th
Bart Williams – Garrett Williams
70
70
140
 
John Kearns – J.D. Millikan
70
71
141
 
Josh Nixon – Matt Swain
70
71
141
 
Garry Black – Richard Sparks
72
69
141
 
Dan East – David Simmons
71
71
142
 
Matt Tuttle – Alex Walters
71
71
142
 
Trey Koontz – Taylor Idol
72
71
143
 
David Watkins – Brian Watkins 
72
71
143
 
Marty Butler – Tim McMasters
72
73
145
 
 
 
 
 
 
Fourth Flight 
Day 1                     Day 2
TOTAL
1st
Jimmy Tilley – Ernie Hedrick
73
69
142
2nd
Stephen Bishop – Garland Amick
73
73
146
3rd
Chad Shields – Steve Nowack
77
70
147
4th
Lester Price – Rick Overton
75
74
149
5th
Keith Sherwood – Randall Bryant 
82
68
150
 
Sirr Howard – Rex Kirkland
77
73
150
 
Buzz Walker – Tim Lee
73
79
152
 
Matthew Jarrel – Matthew Wheeless
81
74
155
 
Logan Sepe – Brian Barnes 
78
78
156
| | | |
| --- | --- | --- |
|   | Closest to the pin  | Hole # |
| SAT | Paxton Davis | 4 |
| SAT | Nick Burge  | 8 |
| SAT | Austin Hinshaw | 12 |
| SAT | Josh Mckinnon  | 17 |
| SUN | Jim Shaw | 4 |
| SUN | Byron Forest  | 8 |
| SUN | David Simpson  | 12 |
| SUN | Josh Nixon  | 17 |
---
GHIN Score Posting