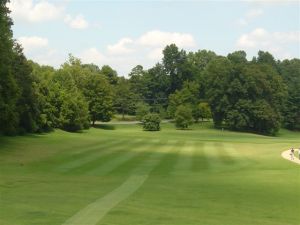 Blair Park measures 6,449 yards from the championship tees and plays to a par of 72. It's a bit unusual in that it opens with two par-5s, then tests the golfer with a par-4 that is the course's No. 1-handicap hole. The 7th hole is also a par-5. Only one par-5 is on the back nine, the 18th hole.
The layout also offers men's regular (6,009), senior (5,737) and women's (5,171) tees.
Blair Park is traversed by creeks that can come into play on more than half of the 18 holes. Bunkering is modest but strategic. Most of the bent grass greens have open fronts, a favorite of players who like bump and run shots. The course offers numerous opportunities to go-for-broke but will punish the errant gamble. Gentle mounding around many of the greens demands a good touch in chipping.
Our High Point golf course has a challenging layout, rich in tradition and will test all of your golfing skills. We hope its' beauty and superb conditions will make your experience a memorable one.
Blair Park Golf Course is a High Point Parks and Recreation Facility. Click here for the Rules and Regulations.