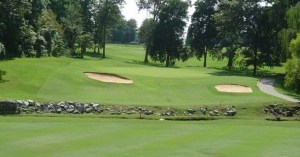 The oldest of High Point's two municipally owned courses (Oak Hollow) Blair Park was a gift to the city from descendants of Solomon Blair. Today's modern 18 hole facility was originally constructed as a nine hole course in 1931, with a second nine added in the mid-1940s. A favorite course with area golfers, our High Point golf course has been the host to many local and High Point Golf Championships. The course is traversed by numerous creeks that come into play on more than half the 18 holes. Bunkering is modest but strategic. The course offers numerous opportunities to go-for-broke, but will punish the errant gamble. Blair Park is an affordable and well maintained public course that provides something for every player no matter their skill level.
High Point Golf Memories

Many notable golfers have visited this High Point golf course, including golf legend Sam Snead who played an exhibition round in 1948. Blair Park is a challenging but fair layout, rich in tradition and will test all of your golfing skills. We hope it's beauty and superb conditions will make your experience here a memorable one.
---


GHIN Score Posting